No Purchase Necessary: Unique Chrysler's $3,000 Visa Prepaid Gift Card Giveaway Contest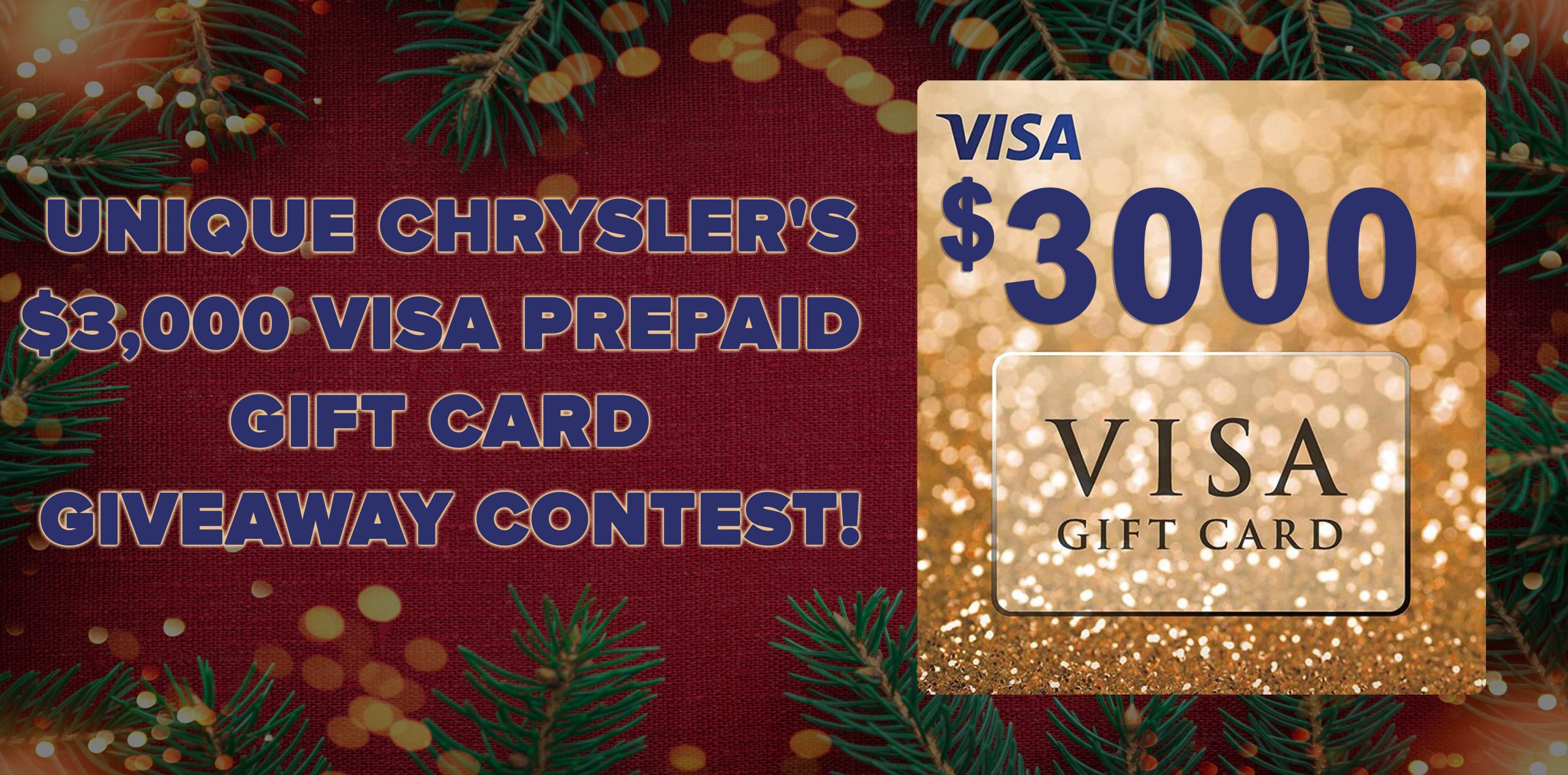 November 1st - December 20th
Are you dreaming of making this holiday season extra special? Look no further because Unique Chrysler is here to make your wishes come true, just in time for the Christmas festivities! From November 1st to December 20th, we are excited to announce our spectacular $3,000 Prepaid Gift Card Giveaway Contest, where you can not only win big but also embrace the holiday spirit to the fullest.
How to Enter Without Making a Purchase:
Online Entry Form: You can enter the contest by filling out the online entry form here.
🌟 Decorate Your Home: Transform your space into a winter wonderland with festive decorations and lights.
🎁 Give the Best Gifts: Spoil your loved ones with the most wonderful presents they've ever received.
🍽️ Host Memorable Gatherings: Host unforgettable holiday parties and feasts to create lasting memories.
✈️ Plan a Getaway: Treat yourself to a magical holiday escape and explore the world.
🧡 Give Back: Share the spirit of the season by supporting your favorite charities and making a positive impact.
At Unique Chrysler, we're not just offering you a chance to win big; we're providing you with the means to make this Christmas truly exceptional.
Why Choose Unique Chrysler for Your Holiday Dreams:
Unique Chrysler is committed to offering the highest quality vehicles and providing exceptional customer service. This holiday season, we want to be your partner in turning your dreams into reality. When you choose Unique Chrysler, you can enjoy:
✨ A diverse selection of new and used vehicles, ensuring you find the perfect one for your holiday adventures.
💰 Competitive pricing and a range of financing options to fit your budget.
🛠️ Expert service and maintenance to keep your vehicle running smoothly all year round.
Your Chance to Win Big and Make Christmas Memories:
Imagine how a $3,000 Prepaid Gift Card could brighten your Christmas this year! Whether you're decking the halls, showering your loved ones with gifts, or planning a holiday getaway, this prize can make it all possible. It's our way of saying thank you for choosing Unique Chrysler as your trusted car dealership.
Hurry and visit Unique Chrysler today to take advantage of this exclusive offer. Drive home your dream car, celebrate the Christmas season with style, and possibly win a $3,000 Prepaid Gift Card! This contest is for a limited time only, so don't miss out on this unique opportunity to make your Christmas even more extraordinary.
At Unique Chrysler, we don't just sell cars; we create magical holiday experiences. Join us in making this Christmas season unforgettable. Good luck, and may your holidays be filled with joy and adventure! 🎄🚗🎁
Rules and Guidelines for No Purchase Necessary Entries:
All "No Purchase Necessary" entries must be submitted online using the official entry form.
Only one entry per person is allowed for "No Purchase Necessary" entries.
Entries must be submitted within the contest period, which is from November 1st to December 20th.
Make sure to provide accurate contact information as this will be used to notify you if you are selected as the winner.
Additional Information:
The "No Purchase Necessary" entry option is open to all legal residents of Ontario, subject to applicable age restrictions.
By entering through the "No Purchase Necessary" method, you acknowledge that you have read and agreed to the contest rules.
The winner of the $3,000 Visa Prepaid Gift Card Giveaway Contest will be selected at random.
Contact Us:
If you have any questions or need further assistance with your "No Purchase Necessary" entry, please feel free to contact our team.
We're excited to offer this fair and equal opportunity to all participants. Best of luck, and thank you for participating in Unique Chrysler's giveaway contest!
Terms and conditions can be found here.