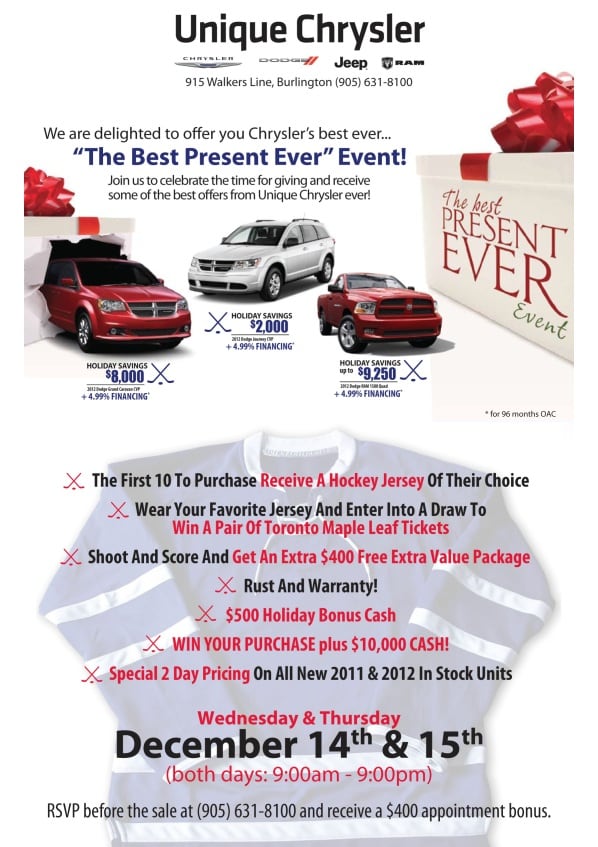 Welcome to the 'Best Present Ever' Sales Event at Unique Chrysler!
C
ome in to Unique Chrysler December 14th and 15th in Burlington for Chrysler's 'Best Present Ever' Sales Event.
Be eligible to receive $500 Holiday Bonus Bucks on Select Models

*

At Unique Chrysler, the Best Present Ever Sales Event includes:

-The first 10 to purchase Recieve a Hockey Jersey If Their Choice
-Wear Your Favorite Jersey And Enter Into A Draw To:
Win A Pair Of Toronto Maple Leaf Tickets
-Shoot & Score and Get An Extra $400 Free Extra Value Package

-Rust and Warranty!
-$500 Holiday Bonus Cash
-Win Your Purchase plus $10,000 CASH!
-Special 2 day Pricing On All New 2011 & 2012 In-Stock Units


RSVP Before The Sale at 905.631.8100 and receieve a $400 appointment bonus
Every Pre-Owned Vehicle is also discounted, so come by for a
Unique Chrysler Experience!